EMBODY Fitness Gourmet</a>
The Mission: Uncomplicate the simple act of eating well
Athletic Shoe Factory</a>
fantastic athletic clothing
BMW of Darien</a>
Bobby Valentine&#39;s Sports Academy</a>
Because There's Never an Off Season
Brookside Electric
Camp Playland</a>
County TV & Appliance</a>
DC Capital Partners</a>
Dick's Sporting Goods
DICK&#39;S Sporting Goods</a>
Dr. Feeney&#39;s Brace Bunch</a>
We know that having a great smile is valuable to one's self-esteem and sense of well-being. That is why Dr. Austin Feeney and the entire team at our New Canaan, Connecticut orthodontic practice is committed to providing the most exceptional care and results for our patients!
Espinosa Baseball</a>
"Love Baseball?" So do we! We offer a variety of programs and services to meet the aspirations of Youth Players, Scholar-Athletes, Coaches, and Parents. We are here to make your Baseball Dreams a Reality!
Garage Living Connecticut</a>
Since 2005, Garage Living has completed over 5,000 projects throughout North America. Our knowledge and experience will ensure that your garage makeover is done quickly, efficiently, perfectly.
Harrigan Insurance</a>
Hutchinson Tree Care</a>
Instant Replay</a>
Joe&#39;s Pizza</a>
Owned and operated by Lorenzo Colella, Joe's Pizza was opened in 1967, the first pizzeria in New Canaan, CT, by Lorenzo's father Joe Colella.
Karl Chevrolet</a>
Kids First Pediatric Dentistry</a>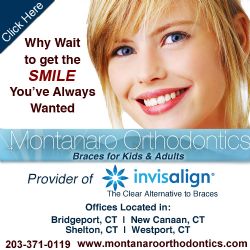 Montanaro Orthodontics</a>
Braces for Kids & Adults
New Canaan Bicycles</a>
New Canaan Eye
New Canaan Farmers Market</a>
New Canaan Firefighters</a>
New Canaan Foreign Car</a>
New Canaan Police PBA</a>
New Canaan Wine Merchants</a>
New England Central Rail
Nutmeg Sporting Goods</a>
Palladino Septic</a>
Pinocchio Pizza
Prizio Roofing & Siding</a>
For over 48 years, Prizio Roofing & Siding has been the leading innovator and provider of roofing and weatherproofing solutions. We offer the most comprehensive residential roofing and weatherproofing solutions for roofing maintenance, replacement solutions, restoration and repair services.
Rainbow Lettering</a>
Ramp3 Baseball</a>
WHAT IS RAMP3 BASEBALL Personalized baseball training designed specifically to meet the needs of each individual athlete. Frank Ramppen's expertise is a culmination of years of experience and success at all levels. His comprehensive training model includes all aspects of the game. Frank teaches with passion and a total commitment to athlete and his family.
Rick Sillo Construction</a>
Robidoux Landscaping, Inc.
Russell Speeder&#39;s Car Wash</a>
S&B Sports</a>
Sandas Cleaners
SIG Insurance Agencies</a>
Swimm Pools</a>
Swimm Pools
The Apple Cart
The Morgan Group</a>
The SIG Insurance Agencies</a>
The White Buffalo